Cradlepoint W1850 Series 5G Wideband Adapter

Indoor, dual-connectivity 5G/LTE adapter designed for fixed locations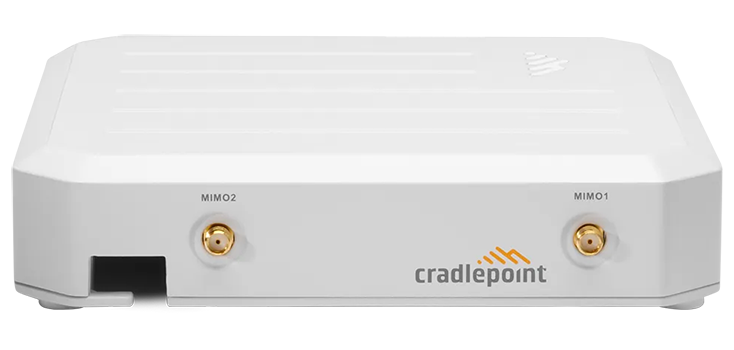 Cradlepoint Products
NetCloud Branch 5G Adapter Essential Plan + Adapter
NetCloud Branch 5G Adapter Essentials Plan and W1850 Adapter (5GB modem), 1 year
#BE01-18505GB-GN
Our Price: $1,299.00
NetCloud Branch 5G Adapter Essentials Plan and W1850 Adapter (5GB modem), 3 years
#BE03-18505GB-GN
Our Price: $1,599.00
NetCloud Branch 5G Adapter Essentials Plan and W1850 Adapter (5GB modem), 5 years
#BE05-18505GB-GN
Our Price: $1,899.00
NetCloud Branch 5G Adapter Essential Plan + Advanced Plan + Adapter
NetCloud Branch 5G Adapter Essentials Plan, Advanced Plan, and W1850 Adapter (5GB modem), 1 year
#BEA1-18505GB-GN
Our Price: $1,399.00
NetCloud Branch 5G Adapter Essentials Plan, Advanced Plan, and W1850 Adapter (5GB modem), 3 years
#BEA3-18505GB-GN
Our Price: $1,899.00
NetCloud Branch 5G Adapter Essentials Plan, Advanced Plan, and W1850 Adapter (5GB modem), 5 years
#BEA5-18505GB-GN
Our Price: $2,399.00
Click here to jump to more pricing!
Overview:
5G wideband adapter for low- and mid-band capacity spectrum layer
Cradlepoint 5G wideband adapters provide industry-leading Wireless WAN connectivity. These purpose-built adapters are sold with a subscription to NetCloud Service for 5G/LTE Branch Adapter which provides streamlined configuration and continuous cloud, modem, and router software feature enhancements.
Designed for branches that require the higher performance of 5G and the flexibility of wireless, the Cradlepoint W1850 5GB Wideband Adapters usher in the next generation of Wireless WAN networking. The W-Series is designed to accommodate the diverse spectrums, multiple generations, and breadth of new technologies introduced in 5G while delivering enterprise-class standards of scalability, comprehensive management, and security

Passthrough Throughput:
2 Gbps

Dual Connectivity:
5G Low/Mid-Band & Cat 20 LTE

LAN Connectivity:
2.5 GbE

Management:
NetCloud
Notable Features
Increase the size and types of your WAN use cases with 5G performance
Experience the dependability of dual connectivity with simultaneous 5G and 4G connections
Gain carrier-class connectivity using a software-defined modem and integrated multilevel test and recovery utilities
Deploy an enterprise-class 5G solution with greater simplicity and confidence with the wizard-based installation application
Manage the Cradlepoint router and 5G adapter as one entity for singular control and visibility
Evaluate the benefits of your 5G service with value confirmation tools built into the NetCloud Platform
Reduce truck rolls with advanced Out-of-Band Management
Deploy within any existing networking or SD-WAN environment
High Performance Wideband
The W1850 5GB adapters are purpose-built for deployment in the new high-performance low-, mid-band 5G spectrum. To address the tradeoff of lower propagation, Cradlepoint designed the W-Series adapter to be placed separately from the router for optimal signal reception. The stylized W1850 5GB Adapter is designated for optimal indoor placement.
Designed for Enterprise-Class Business
While the performance of 5G is top of mind, the W-Series was also designed with enterprise-class standards for high scalability, comprehensive management, and security. Because 5G is a collection of new spectrum, new technologies, and new network infrastructure that is rolling out over several years, the Cradlepoint 5G edge networking service and endpoints accommodate the diverse deployments of an organization with hundreds or even tens of thousands of sites.
Performance
---
IP Passthrough Mode Throughput:
2.0 Gbps
Standard NAT Mode Throughput:
2.0 Gbps
Captive Modem Mode Throughput:
2.0 Gbps
Performance testing was conducted based on requirements as defined in RFC2544 using fixed-frame 1518 byte packets. Throughput results reflect uni-directional UDP traffic with less than 1% packet loss as tested with wired connections.
Results do not reflect performance of the cellular wireless operator networks.
Features/ Capabilities:
Carrier-Class Connectivity
Although each network operator conforms to 3GPP standards, they implement those standards differently to gain optimal efficiency and performance from their network. Additionally, software from modem manufacturers is designed to serve multiple operators within broad markets. The W-Series uses a customized software-defined modem, pre-programmed endpoints, and multilevel integrity testing to predict vulnerable connections and deliver carrier-class connectivity.
5G Spectrum Solutions
The W-series portfolio supports all spectrum layers ensuring that organizations have the right solution for every location. The W1850 5GB adapter supports low- and mid-band layers.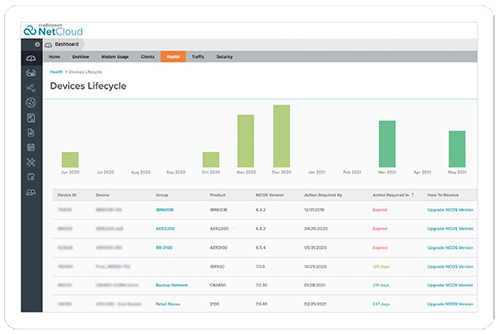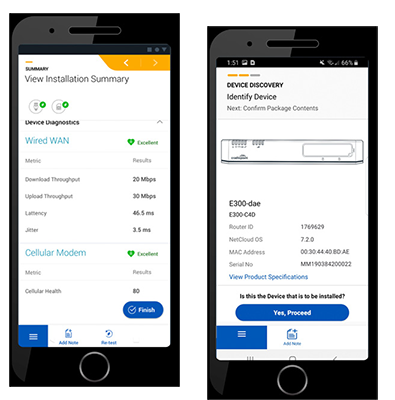 Support for a Full Range of Cellular Technologies
Cradlepoint 5G solutions support all cellular generations, from 4G LTE to Gigabit-Class LTE to 5G — with the ability to gracefully transition tens of thousands of sites between generations as technology becomes available in individual locations.
Complete Lifecycle Management
Cradlepoint 5G solutions help enterprises minimize complexity from installation to troubleshooting with tools and features such as the mobile installation application, the captive modem feature, 5G tools demonstrate 5G service value, and Out-of-Band Management.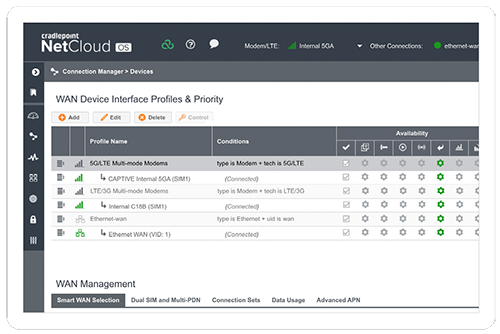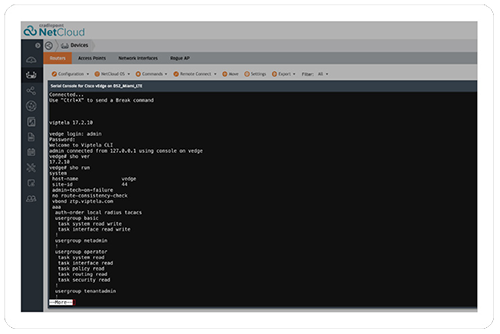 Intelligent Hybrid WAN Connectivity
Cradlepoint 5G solutions deliver effortless wireless endpoint management in a "wired-first SD-WAN" environment and provides all-in-one capabilities (routing, embedded wireless, and foundational SD-WAN) in a "wireless-first SD-WAN" deployment.
Hardware Specifications:
W1850 Series 5G Wideband Adapter Specifications
Category
Branch
Cloud Management
NetCloud
Wireless Connectivity
Dual Connectivity, 5G Low/Mid-Band & Cat 20 LTE
Form Factor
Stylized Plastic
Console Ports
1
Serial Ports
1 (RJ45)
Dual-Modem Support
No
Network Operator Standards
PTCRB (U.S.), GCF (global)
Network Operator Certifications
AT&T, T-Mobile, Verizon
Public Safety Networks
FirstNet ReadyTM (LTE now, 5G pending); T-Mobile Connecting Heroes; Verizon Frontline
Throughput
2 Gbps (Passthrough)
Modem
Embedded 5GB NR FR1 low-, mid-band, and 4G LTE Category 20 modem

4 x SMA cellular antenna connectors

Ethernet
2 x 2.5GbE RJ45 (LAN/WAN switchable)
Wi-Fi
N/A
GNSS/GPS
Passive
PoE++
802.3at PSE Type 2 (30W)
Operating Temperature
0 °C to 50 °C (32 °F to 122 °F)
Ingress Protection
N/A
Size
6.5 x 6.5 x 1.5 in (165.1 x 165.1 x 38.1 mm)
Weight
1 lb 14.4 oz (0.86 kg)
Enterprise-Class Modem Specifications
Technology
5G NR (low/mid-band FR1) and 4G LTE Category 20 LTE-Advanced Pro with Dual Connectivity — Dual SIM slots, 4FF form factor
Carrier Aggregation
LTE only; up to 7CA downlink, 2CA uplink ENDC 5G + LTE; downlink and uplink supported
Peak Downlink Rates
Up to 4.14 Gbps — based on 20 Layers LTE + TDD (100 MHz BW, 256 QAM, 4X4)
Peak Uplink Rates
Up to 660 Mbps — based on 2 Layers LTE + TDD (100 MHz BW, 256 QAM, SISO)
MIMO
4x4 MIMO
QAM
Up to 256
4G/LTE Bands
B1, B2, B3, B4, B5, B7, B8, B12, B13, B14, B17, B18, B19, B20, B25, B26, B28, B29, B30, B32, B34, B38, B39, B40, B41, B42, B46, B48, B66, B71
5G NR Bands

Firmware 01.07.xx
n1, n2, n3, n5, n28, n41, n66, n71, n77, n78, n79

Firmware 03.09.03
— n1, n2, n3, n5, n7, n8, n12, n20, n25, n28, n38, n40, n41, n66, n71, n77, n78, n79

3G Bands
B1, B2, B3, B4, B5, B6, B8, B9, B19
Power
LTE only; 23 dBm ± 1 (typical conducted)
ENDC 5G + LTE; 20 dBm ± 1 (typical conducted)
Antennas
SMA female connectors, external 600 MHz - 6 GHz cellular paddle antennas (Qty 4, included)
GNSS
Passive GNSS (multiplex with DIV/MIMO2 antenna ports)
SMS
Yes
Regulatory
FCC (U.S.), IC (Canada), CE (EU), RCM (AU/NZ)
Network Operator Standards
PTCRB (U.S., Canada), GCF (Worldwide)
Network Operator Certifications*
AT&T, T-Mobile, Verizon
Public Safety Network Certifications
FirstNet Ready™ (LTE now, 5G pending), T-Mobile Connecting Heroes, Verizon Frontline
Private Cellular Network
Yes, includes FCC Part 96 (CBRS Band 48)
* Cellular carriers and operators throughout the world may only require telecom industry certifications, like PTCRB or GCF, to operate on their network. Some carriers require additional testing and approval, beyond telecom certifications, to operate on their network. A carrier listed in the approvals section means Cradlepoint completed additional testing and acquired technical approval for that given carrier. Any carrier not listed may not require additional testing or approval beyond telecom industry certifications to operate on their network.
Pricing Note:
Pricing and product availability subject to change without notice.
Enterprise Cloud Manager is required for centralized management and to enable networking applications
CradleCare Support is required for access to Cradlepoint Technical Assistance Center (TAC) on all products and services
Cradlepoint Products
NetCloud Branch 5G Adapter Essential Plan + Adapter
NetCloud Branch 5G Adapter Essentials Plan and W1850 Adapter (5GB modem), 1 year
#BE01-18505GB-GN
Our Price: $1,299.00
NetCloud Branch 5G Adapter Essentials Plan and W1850 Adapter (5GB modem), 3 years
#BE03-18505GB-GN
Our Price: $1,599.00
NetCloud Branch 5G Adapter Essentials Plan and W1850 Adapter (5GB modem), 5 years
#BE05-18505GB-GN
Our Price: $1,899.00
NetCloud Branch 5G Adapter Essential Plan + Advanced Plan + Adapter
NetCloud Branch 5G Adapter Essentials Plan, Advanced Plan, and W1850 Adapter (5GB modem), 1 year
#BEA1-18505GB-GN
Our Price: $1,399.00
NetCloud Branch 5G Adapter Essentials Plan, Advanced Plan, and W1850 Adapter (5GB modem), 3 years
#BEA3-18505GB-GN
Our Price: $1,899.00
NetCloud Branch 5G Adapter Essentials Plan, Advanced Plan, and W1850 Adapter (5GB modem), 5 years
#BEA5-18505GB-GN
Our Price: $2,399.00
NetCloud Branch 5G Adapter Essentials Plan - Renewal
Renewal NetCloud Branch 5G Adapter Essentials Plan, 1 year
#BE01-NCESS-R
Our Price: $150.00
Renewal NetCloud Branch 5G Adapter Essentials Plan, 3 years
#BE03-NCESS-R
Our Price: $450.00
Renewal NetCloud Branch 5G Adapter Essentials Plan, 5 years
#BE05-NCESS-R
Our Price: $750.00
NetCloud Branch 5G Adapter Advanced Plan - Renewal
Renewal NetCloud Branch 5G Adapter Advanced Plan, 1 year
#BE01-NCADV-R
Our Price: $102.00
Renewal NetCloud Branch 5G Adapter Advanced Plan, 3 years
#BE03-NCADV-R
Our Price: $306.00
Renewal NetCloud Branch 5G Adapter Advanced Plan, 5 years
#BE05-NCADV-R
Our Price: $510.00
NetCloud Branch 5G Adapter Plan (Essentials + Advanced) Renewal
Renewal NetCloud Branch 5G Adapter Essentials Plan and Advanced Plan, 1 year
#BEA1-NCEA-R
Our Price: $252.00
Renewal NetCloud Branch 5G Adapter Essentials Plan and Advanced Plan, 3 years
#BEA3-NCEA-R
Our Price: $756.00
Renewal NetCloud Branch 5G Adapter Essentials Plan and Advanced Plan, 5 years
#BEA5-NCEA-R
Our Price: $1,260.00