Embrace a wireless world and 5G future
The Wireless WAN has arrived. Whether connecting a branch site, pop-up store, vehicle, or Smart City, your organization can always access critical cloud and data center applications and the internet from anywhere using advanced cellular — quickly, reliably, and securely. Cradlepoint's NetCloud Service and wireless edge routers provide everything you need to unlock the power of LTE and 5G for whatever's on the edge of your network.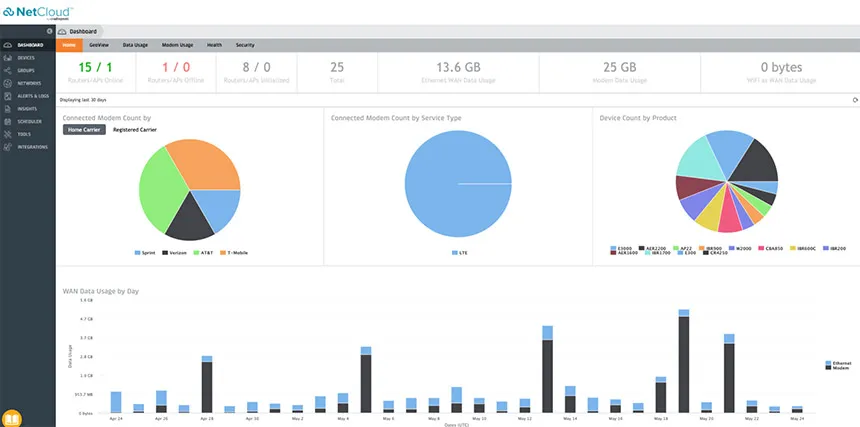 Wireless Edge Solutions with Cloud Control
NetCloud Service, delivered through purpose-built LTE and 5G wireless edge routers, is a complete software platform that enables your transition to a Wireless WAN. It's delivered in an all-in-one subscription that aligns with your business needs.
Solutions Built for Wireless

Zero-Touch Deployment
Just plug in and go with zero-touch deployment features that automatically connect, license, configure, and select the best carrier — enabling instant setup of Wireless WAN edge solutions.

Policy-Based Control
Cradlepoint NetCloud makes it easy to configure networks that can route traffic based on bandwidth usage, application content, cellular data usage, or preferred link to maximize availability and uptime.

SD-WAN for Wireless
Ensure optimal application quality and availability with integrated SD-WAN that's deployed at scale with minimal disruption. Cradlepoint SD-WAN is built for a wireless, cloud-first world.

Full-Stack Analytics
Gain insight into applications, network health, and security data through rich analytics. Available in intuitive dashboards and through actionable alerts, this data gives organizations a full picture of their Wireless WAN, applications, and network usage.

Mobile Application
Access a range of NetCloud management features from a phone or tablet. An intuitive interface provides access to critical troubleshooting, security events, alerts, and reports — anywhere, any time.

Full Lifecycle Management
NetCloud simplifies network management by making it easy to understand and apply licenses, identify and push out software updates, upgrade software feature sets, amass education tools, and connect with other customers.