Cradlepoint In-Vehicle Networks

Ensure Mission-Critical Connectivity on the Move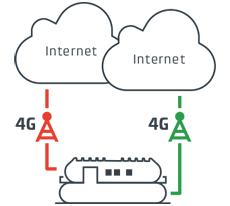 Wireless-to-Wireless Failover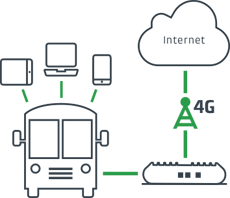 Passenger WiFi
Telematics, Monitoring, GPS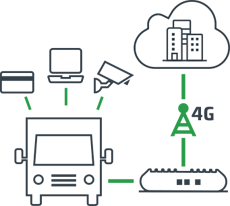 Mobile Office
Solution Benefits:
Ruggedized and purpose-built for vehicles: Cradlepoint in-vehicle solutions keep running everywhere they go, as they are ruggedized for vibration, shock, dust, splash, and humidity — with an integrated temperature sensor.
Time savings for staff: Constant network access anywhere at anytime allows staff to submit important reports and data without constantly returning to headquarters.
WiFi inside and outside: From guest WiFi in a metro bus to WiFi coverage at an outdoor crime scene, fleet vehicles benefit from Cradlepoint solutions' robust dual-band, dual-concurrent WiFi (802.11 a/b/g/n/ac).
Remotely managed firmware upgrades: Updates and security patches can be pushed out to the entire fleet simultaneously — without bringing the vehicles to headquarters.
Wireless-to-wireless failover: The COR Extensibility dock facilitates dual LTE modems, enabling wireless-to-wireless failover for vital applications such as Point-of-Sale and much more.
Cradlepoint Solutions Purpose-Built for Mobile & In-Vehicle Needs

COR Series Routers
Cradlepoint's highly ruggedized, software-defined COR Series keeps your fleet's mission-critical in-vehicle applications connected — no matter where the day may take you.
COR IBR1100 Series & Dual-Modem Dock
COR IBR900 Series & COR Extensibility Dock
COR IBR600C Series & COR Extensibility Dock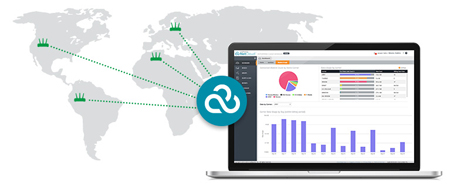 Cradlepoint NetCloud
Rapidly deploy and manage networks at geographically distributed locations with Enterprise Cloud Manager, Cradlepoint's network management and application solution within the Cradlepoint NetCloud platform.