Cradlepoint CBA850 Series LTE Adapter

LTE adapter ideal for failover and Out-of-Band Management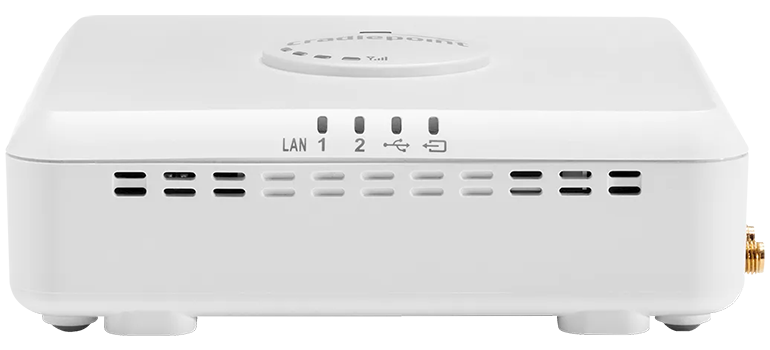 Sorry, this product is no longer available, please contact us for a replacement.
Click here to jump to more pricing!
Overview:
The purpose-built adapter
Cradlepoint endpoints provide industry-leading, Gigabit-Class LTE connectivity as well as Ethernet and Wi-Fi. These purpose-built endpoints are sold with a subscription to NetCloud Service for Branch Continuity which provides streamlined configuration and continuous cloud, modem, and adapter software feature enhancements.
The Cradlepoint CBA850 Series LTE Adapter is a turnkey branch continuity solution for Gigabit-Class LTE failover that integrates seamlessly with existing network and SD-WAN infrastructure. Using secure wireless access, the CBA850 Adapter provides the ability to extend management capability to any primary router Out-of-Band without the need for a wired connection. Equipped with Power-over-Ethernet for flexible, unobtrusive placement anywhere to optimize cellular reception, this powerful solution reduces truck rolls, consolidates infrastructure, and maximizes uptime for businesses that require always-on connectivity.

Passthrough Throughput:
275 Mbps

WAN Connectivity:
Cat 4, Cat 6, or Cat 18, GbE

LAN Connectivity:
GbE

Management:
NetCloud
Notable Features
Maximize network uptime using non-intrusive, easy to install overlay failover.
Elastic Wideband technology for exceptional cellular connectivity.
Power-over-Ethernet placement flexibility.
Utilize Day-1 connectivity while waiting for terrestrial links.
Manage the Cradlepoint router and LTE adapter as one entity for singular control and visibility.
Troubleshoot adapter and in-line devices with advanced Out-of-Band Management to reduce truck rolls.
Offload primary connections during traffic surges and network congestion.
High Performance LTE for Failover Link Diversity
LTE wireless WANs provide a powerful, flexible, and cost-effective failover option to minimize disruption in the event of an outage. Working in conjunction with an existing router or SD-WAN, the CBA850 Adapter establishes a cellular connection based on established failover policies. With this adapter, many remote location operations and applications continue functioning while in failover.
Day-1 Connectivity for Rapid Deployment
Establish secure network connections to get operations running while waiting for a wired connection. CBA850 Adapters uniquely connect through LTE independently of the primary link so they do not require prior connection through wired networks. Cradlepoint wireless broadband solutions can be set up in hours with zero-touch deployment without IT staff on location, so local personnel can set up the network. Once the wired link is established, the CBA850 Adapter falls into backup mode.
Performance
---
IP Passthrough Mode Throughput:
275 Mbps
Standard NAT Mode Throughput:
275 Mbps
Captive Modem Mode Throughput:
275 Mbps
Performance testing was conducted based on requirements as defined in RFC2544 using fixed-frame 1518 byte packets. Throughput results reflect uni-directional.
UDP traffic with less than 1% packet loss as tested with wired connections.
Results do not reflect performance of the cellular wireless operator networks.
Features and Benefits:
Key Software Capabilities
The NetCloud Service provides everything needed to unlock the power of LTE at the network edge and connect devices to critical applications and services. It enables customers to build and manage wireless WANs with complete lifecycle management, true zero-touch deployment, robust security, and foundational SD-WAN traffic management for optimal application performance and reliability. The service includes a warranty for as long as an active subscription on the router, online training, live and online support, and all software and firmware updates.
Out-of-Band Management
To mitigate the effects of an unreachable router, the CBA850 Adapter offers efficient, advanced Out-of-Band Management. Network administrators can connect to the router and other in-line devices over the air, even if IP and Ethernet are unavailable on the router, improving uptime and reducing truck rolls.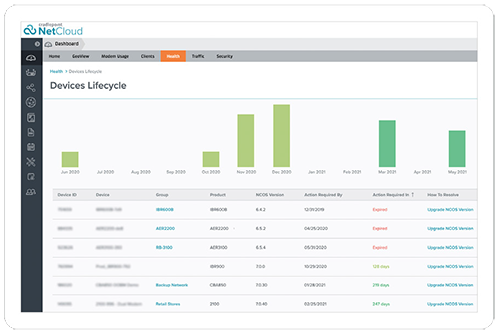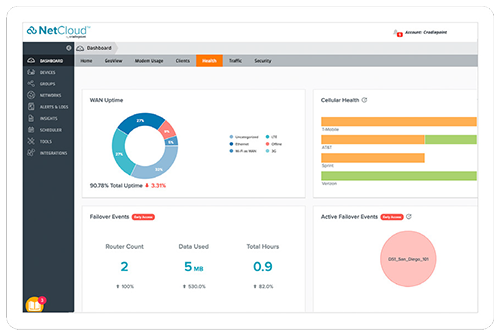 Quantifiable Data and Insights on Failover Events
In the NetCloud Health dashboard, view data for avoided disruptions from failover events, and see quantified ROI in the NetCloud Insights failover report. Additionally, analyze the primary-links service level agreement (SLA) performance for potential to recoup costs, as well as understand the secondary network's performance, including Interface Uptime, Cellular Health, and Quality of Experience.
Cradlepoint Verify™ Mobile Application
As an extension to NetCloud, Cradlepoint Verify helps installers quickly and accurately install the CB850 adapter for optimal LTE signal reception. Upon a verified installation, users receive a detailed report that includes installation pictures, speed test results, and modem health metrics.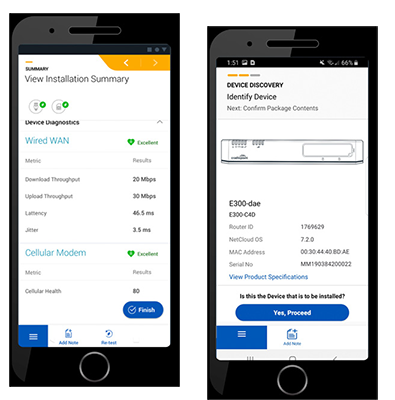 Specifications:
CBA850 Specifications

Category

Branch

Cloud Management

NetCloud

5G Status

None

Form Factor

Plastic

Ethernet Ports

2 x GbE RJ45 (LAN/WAN switchable)

LAN1 port pre-configured in IP NAT LAN mode
LAN2 port pre-configured in IP Passthrough LAN mode

Console Ports

1

Serial Ports

1

Dual-Modem Support

No

Network Operator Standards

PTCRB (U.S), GCF (global)

Network Operator Certifications

AT&T, Verizon, Telstra

Public Safety Networks

Verizon Frontline; MC400-1200M-B is FirstNet Ready™

Passthrough Throughput

275 Mbps

VPN Tunnel Count

No

Wi-Fi

No

GNSS/GPS

Active GPS via modular modem

PoE

802.3af PSE Type 1 (15 W) or 8.023at (30 W) PoE capable

Operating Temperature

0 °C to 50 °C (32 °F to 122 °F)

Rack Mountable

No

Private Cellular Network

Yes

Size

122 x 122 x 42 mm (4.8 x 4.8 x 1.7 in)

Weight

0.35 kg (12.8 oz)
Enterprise-Class Modem Specifications
Specification
CBA850-1200M-B
CBA850-1200M
Technology
Category 18 LTE Advanced Pro

DC-HSPA+
SIM-based auto-carrier selection

Category 18 LTE Advanced Pro

li>DC-HSPA+
SIM-based auto-carrier selection

Fallback
WCDMA/DC-HSPA+ (42/5.76 Mbps)
WCDMA/DC-HSPA+ (42/5.76 Mbps)
Carrier Aggregation
Up to 5CA downlink, 2CA uplink
Up to 5CA downlink, 2CA uplink
Peak Downlink Rates

LTE: 1.2 Gbps
DC-HSPA+: 42.2 Mbps

LTE: 1.2 Gbps
DC-HSPA+: 42.2 Mbps

Peak Uplink Rates

LTE: 150 Mbps
DC-HSPA+: 5.76 Mbps

LTE: 150 Mbps
DC-HSPA+: 5.76 Mbps

MIMO
4x4 MIMO
4x4 MIMO
QAM
Up to 256
Up to 256
LTE Bands
LTE FDD

B1, B2, B3, B4, B5, B7, B8, B12, B13, B14, B17, B18, B19, B20, B25, B26, B28, B29, B30, B32, B66, B71


LTE TDD

B38, B39, B40, B41, B42, B43, B46, B48

LTE FDD

B2, B4, B5, B12, B13, B14, B29, B30, B66


LTE TDD
HSPA+ Bands
B1, B2, B4, B5, B8
B1, B2, B4, B5, B8
Power
LTE 23 dBm ± 1, DC-HSPA+ 23 dBm ± 1
LTE 23 dBm ± 1, DC-HSPA+ 23 dBm ± 1
Antennas
SMA & RP-SMA male connectors
SMA & RP-SMA male connectors
GNSS/GPS
Active GPS
Active GPS
SMS
Yes
Yes
Regulatory
FCC (U.S.), IC (Canada), CE (EU)
FCC (U.S.)
Network Operator Standards
PTCRB (U.S., Canada), GCF-CC (Worldwide)
PTCRB (U.S., Canada)
Network Operator Certifications
AT&T, Verizon, Sprint, U.S. Cellular, Rogers, Telstra*
AT&T, Verizon*
Public Safety Network Certifications
FirstNet Ready™
N/A
Private Cellular Network
N/A
N/A
* Cellular carriers and operators throughout the world may only require telecom industry certifications, like PTCRB or GCF, to operate on their network. Some carriers require additional testing and approval, beyond telecom certifications. A carrier listed in the approvals section means Cradlepoint completed additional testing and acquired technical approval for that given carrier. Any carrier not listed may not require additional testing or approval beyond telecom industry certifications to operate on their network.
Pricing Note:
Pricing and product availability subject to change without notice.
Cradlepoint Products
LTE Adapter Plans
NetCloud Branch LTE Adapter Essentials Plan, 1 year
#BB1-NCESS
Our Price: $71.00
NetCloud Branch LTE Adapter Essentials Plan, 3 years
#BB3-NCESS
Our Price: $213.00
NetCloud Branch LTE Adapter Advanced Plan, 1 year
#BB1-NCADV
Our Price: $71.00
NetCloud Branch LTE Adapter Advanced Plan, 3 years
#BB3-NCADV
Our Price: $213.00
NetCloud Branch LTE Adapter Advanced Plan, 5 years
#BB5-NCADV
Our Price: $355.00
LTE Adapter Plans - Renewal
Renewal NetCloud Branch LTE Adapter Essentials Plan, 1 year
#BB1-NCESS-R
Our Price: $71.00
Renewal NetCloud Branch LTE Adapter Essentials Plan, 3 years
#BB3-NCESS-R
Our Price: $213.00
Renewal NetCloud Branch LTE Adapter Essentials Plan, 5 years
#BB5-NCESS-R
Our Price: $355.00
Renewal NetCloud Branch LTE Adapter Essentials Plan and Advanced Plan, 1 year
#BB1-NCADV-R
Our Price: $71.00
Renewal NetCloud Branch LTE Adapter Essentials Plan and Advanced Plan, 3 year
#BB3-NCADV-R
Our Price: $213.00
Renewal NetCloud Branch LTE Adapter Essentials Plan and Advanced Plan, 5 years
#BB5-NCADV-R
Our Price: $355.00